As a local market infrastructure entity or interested participant, Thomas Murray is pleased to send you our November newsletter. This newsletter provides access to the top stories we reported on as part of our on-going surveillance of local capital markets worldwide. We currently track over 100 securities markets, 130 Central Securities Depositories and have Capital Market Infrastructure Risk Rating Reports on over 90 markets worldwide, assessing the post trade risk exposures faced by international investors.
We would value your feedback on this newsletter. Should you wish to find out about subscribing to our services please feel free to contact us.
CMI in Focus
Thomas Murray maintains a wealth of information through the whole post-trade lifecycle of securities. In a series of monthly reports, Thomas Murray will be investigating global trends in the industry through analysis of particular areas of capital market infrastructure.
This month CMI in Focus addresses how local safekeeping practices influence the security of invested assets. Events such as Madoff and the defaults of Lehmans, MF Global and others, have highlighted the importance of asset recoverability/portability to such an extent that investors concerns have transcended even to the plain vanilla securities held at Central Securities Depositories (CSDs).
Top Stories
Belgium, Finland, France, Ireland, Netherlands, Sweden, UK - Euroclear to Launch New Web-based Access to its Services
Euroclear Bank has announced the launch of a new browser-based application, EasyWay. The development will enable clients to see an integrated, holistic view of all their activities within Euroclear. The new application will first be launched for...
Brazil - CETIP Provides Real Time Access to Funds Managers
CETIP has announced the launch of a new tool that allows investment funds managers to have real-time access to transactions executed on their funds as well as the assets under custody at CETIP.The new functionality provides access to the information of...
Ghana - Ghana CSD Handles Cash Settlement Leg of Secondary Government Bond Transactions
The Effective immediately, the Ghana Central Securities Depository (CSD) will be handling the cash settlement leg of secondary government bond transactions, therefore achieving DVP settlement by linking the transfer of funds with...
Philippines - SCCP Applies for Securities Depository Status
The Securities Clearing Corporation of the Philippines (SCCP) has submitted an application to the Securities and Exchange Commission (SEC) to operate as a securities depository. The SCCP proposes a multi-depository framework that will...
UAE - SCA Approves Regulations on SBL, Short Selling, Market Making and Liquidity Providers
Further to our previous newsflash, the Securities and Commodities Authority (SCA) of the United Arab Emirates (UAE) has approved the draft regulations on securities borrowing and lending (SBL), short selling, market making and liquidity providers...

Total Number of Thomas Murray Flashes Issued: October 2012
Depository/CSD Risk Flashes: 100 (1184 year on year)
Capital Market Infrastructure Risk Flashes: 108 (1214 year on year)


Worth Knowing
Depository Risk Flashes
Austria - New Funds Solution at OeKB
Costa Rica - CEVAL Amends Fees Scheme on International Custody Services
Russia - NSD to Become Russia's Repository for OTC Repo and Swap Transactions - Update
Singapore - MAS Conducts Self-Assessment of MEPS+
South Africa - Proposed Changes to Bond Operational Market Windows Directives
Capital Market Infrastructure Risk Rating Flashes
Australia - RBA Publishes Assessment Report of Clearing and Settlement Facilities in Australia
Costa Rica, El Salvador, Panama - Panama, Costa Rica and El Salvador to Create a Common Market
Portugal - Closure of T-Bills Settlement System
Ukraine - PFTS Introduces Market-Makers for Government Bonds
USA - SEC Adopts Standards for Risk Management and Operations of Clearing Agencies

Register for FREE TRIAL
The free trial to Thomas Murray's Rating & Information services enables access to the full suite of Thomas Murray Rating & Information products for 2 markets:
Securities Market Profiles
Central Securities Depository Risk Assessments
Capital Market Infrastructure Risk Ratings
Securities Market Newsflashes
Trial Subscriptions to Thomas Murray's Data Services.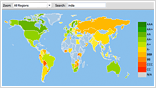 Visit Thomas Murray's Online Store for all Subscriptions and Products.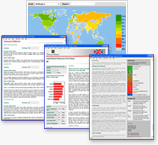 Commission a Public Central Securities Depository Risk Assessment.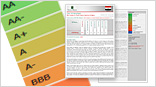 Email Subscriptions
Would you like to receive this Thomas Murray Newsletter on a regular basis?

Forward to a Colleague
Forward this newsletter to your friends and colleagues so they can sign up for their own free copy.