As a local market infrastructure entity or interested participant, Thomas Murray is pleased to send you our August newsletter. This newsletter provides access to the top stories we reported on as part of our on-going surveillance of local capital markets worldwide. We currently track over 100 securities markets, 130 Central Securities Depositories and have Capital Market Infrastructure Risk Rating Reports on over 90 markets worldwide, assessing the post trade risk exposures faced by international investors.
We would value your feedback on this newsletter. Should you wish to find out about subscribing to our services please feel free to contact us.

Top Stories
China - CSRC Finalises the Revised QFII Scheme
On 27 July 2012, the China Securities Regulatory Commission (CSRC) published the final version of the rules of the Implementation of Measures on the Administration of the Domestic Securities Investment of Qualified Foreign Institutional Investors (QFII)...
Global - European Parliament Publishes Draft Report on CSD Regulation
Further to our previous newsflash, the European Parliament has published its draft report on the European CSD regulation issued by the European Commission. The draft contains amendments to the original text submitted to the Parliament for voting...
Kenya - CDSC Adopts Multiple Settlement Bank Model
The Central Depository and Settlement Corporation Limited (CDSC) has opted to implement a multiple settlement bank model in the market. CDSC has appointed four settlement banks, with CfC Stanbic Bank acting as the primary settlement bank...
Peru - SMV Approves Regulations on Securities Settlement Systems
The Superintendencia del Mercado de Valores (SMV), the Peruvian regulator, has published the approved Regulation on the Securities Settlement Systems (SSS). The document outlines the minimum requirements that a SSS must comply with in order...
Ukraine - Adoption of Law on CSD and Clearing Center
The Ukrainian parliament adopted the Law on the depository system under which a single Central Securities Depository (CSD) and a single Clearing Centre (CCP) are to be established in Ukraine. The Law also stipulates the principles and order of...

Total Number of Thomas Murray Flashes Issued: July 2012
Depository/CSD Risk Flashes: 111 (1160 year on year)
Capital Market Infrastructure Risk Flashes: 111 (1185 year on year)


Worth Knowing
Depository Risk Flashes
Czech Republic - CDCP Postpones Signing T2S Framework Agreement
Dominican Republic - First-time Proprietary Rating Issued To CEVALDOM
Lebanon - Midclear's System Connected to RTGS Payment System
Russia - NSD Updates its IT and Business Processes
Taiwan - TWSE Clarification on Short Sale Orders of Borrowed Securities
Capital Market Infrastructure Risk Rating Flashes
Botswana - BSE to Implement Automated Trading System
Chile - New Chilean Derivatives CCP to be Launched on Q2 2013
Global - Basel Committee Issues Interim Rules on Capitalisation of Bank Exposures to CCPs
Japan - FSA Issues New Regulations on OTC Derivatives Market
Kazakhstan - KASE amended Specification of Automatic Repo Market

Register for FREE TRIAL
The free trial to Thomas Murray's Rating & Information services enables access to the full suite of Thomas Murray Rating & Information products for 2 markets:
Securities Market Profiles
Central Securities Depository Risk Assessments
Capital Market Infrastructure Risk Ratings
Securities Market Newsflashes
Visit Thomas Murray's Online Store for all Subscriptions and Products.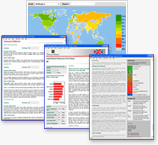 Trial Subscriptions to Thomas Murray's Data Services.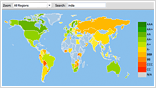 Commission a Public Central Securities Depository Risk Assessment.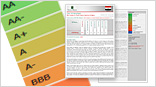 Email Subscriptions
Would you like to receive this Thomas Murray Newsletter on a regular basis?

Forward to a Colleague
Forward this newsletter to your friends and colleagues so they can sign up for their own free copy.